history
The company was started by a young Scot called Alexander MacRae, who migrated to Australia in 1910. His underwear manufacturing business was originally known as MacRae Hosiery Manufacturing. The name Speedo first appeared under the brand "Fortitude" which was taken from the motto on the clan MacRae crest. The company finally took on the famous Speedo name in 1928.


Speedo now has a turnover of £100m and sells its products into 170 countries worldwide.
the challenge
With Speedo products being sold worldwide and distributors wanting to market those products as soon as they were launched, Speedo found themselves dispatching hard copy catalogues across the globe. Alternatively, they were sending digital product information and images; leaving distributors to create their own marketing materials over which Speedo had no brand control.
the requirement
Speedo needed to give their distributors fast access to marketing material but at the same time keep control of what was being published. They wanted to allow their distributors to create their own product catalogues and be able to access product catalogues instantly whilst maintaining brand consistency.
the solution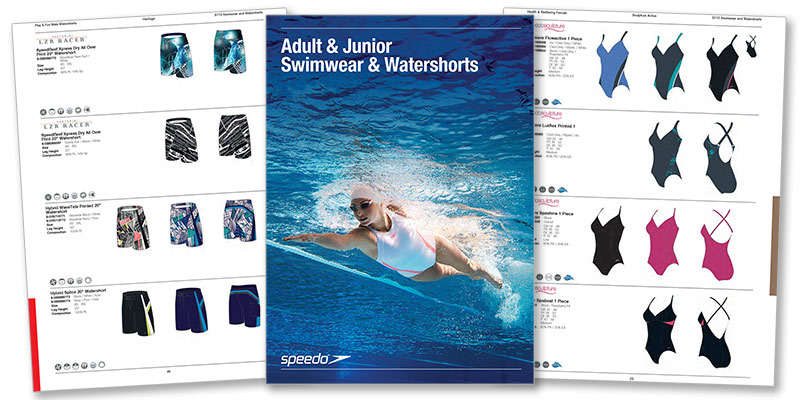 Speedo approached Pindar Creative to see if a system could be developed to address their needs. Pindar Creative scoped the market to find suitable technologies and came up with the concept of pagespry. By hosting catalogue content in an on-line e-commerce database, and building a high resolution PDF rendering facility, Pindar Creative addressed their problem. This solution enabled Speedo distributors to log on to the system and create a running order of products, which was then turned into a branded catalogue and sent to them via download. The user could also choose the language and styling of the catalogue to suit the needs of their own market.
the benefits
Brand consistency - Users can create their own catalogues choosing their own content without straying from the brand guidelines.
Automated page make-up from anywhere in the world.
Page make-up at zero cost for any of the distributors world-wide.
Multiple languages available for both catalogues and the website.
Creation of indexes on the 'fly' - Indexes are generated from what is selected in the

page

spry

so each index is unique to the catalogue that is created.
Facility to zip up

page

spry

for quicker downloads.
Facility to generate low resolution version for sending by email.
Facility to download technical pages - Technical pages are available to download at the same time users download their

page

spry

.
Manage assets - Users can download both high resolution and low resolution images from the front of the website.
From the backend administration, administrators can update, remove or add products/images to be viewed immediately by the users.
Administrators can also choose which page template the product should be on and what logos and icons should be associated with that product.
After the initial success with the first catalogue produced via

page

spry

, Pindar Creative have helped Speedo produce ten seasons' worth of catalogues since February 2006 in various languages for a number of countries.